The latest data on government-funded VET activity covers the January to September 2021 period. It shows a number of significant differences across States and Territories, as well as some VET funding priorities which appear out of step with governments' stated objectives.
After the next Federal election (scheduled for May 2022) the Commonwealth government will sit down with States and Territories to finalise the next multi-year National Skills Agreement. While States and Territories provide the bulk of government funding for VET delivery, in return for a sizeable amount of additional funding from the Commonwealth, they will agree to a suite of new reforms for the sector. The headline measures for the new Agreement are set out in the Heads of Agreement signed by the Prime Minister, Premiers and Chief Ministers in August 2020. Additional details are set out in the draft VET Reform Roadmap (finalised in April 2021) which now awaits the finalisation of the National Skills Agreement.
While the Labor party has committed to additional funding and places in TAFE should it win government, the Coalition will pursue more efficient national VET funding and more contestability if it is returned at the election.
Against that backdrop it is timely to consider where the sector is now, ahead of the next election? The answer is that it is highly fragmented, with considerable variation across States and Territories.
Firstly, despite the Victorian government's commitment to the TAFE sector and Free-TAFE, it still has a smaller proportion of government-funded students studying in TAFE than jurisdictions such as New South Wales and Western Australia. Queensland, on the other hand, has 60 per cent of its government-funded students studying with private providers.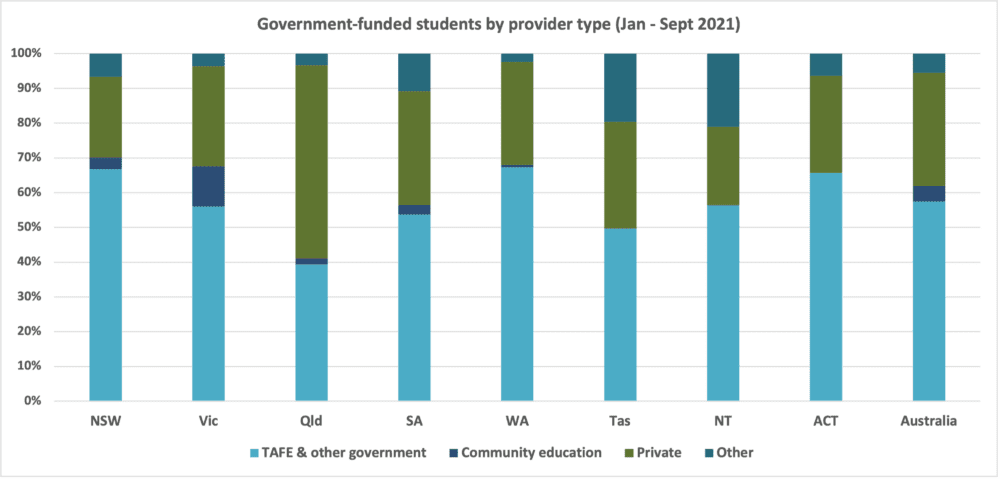 When it comes to the type of courses students study there are also significant differences across States and Territories. Despite a commitment to microcredentials as a key priority in the VET Reform Roadmap, with the exception of New South Wales State and Territory governments provide little funding for students to enrol in short courses (skill sets).
In New South Wales in the first nine months of 2021, 20 per cent of government-funded students were enrolled in skillsets (either national Training Package skillsets or locally developed skillsets), followed by Western Australia (12%), Tasmania and the ACT (8% of government-funded students in skillsets). By contrast only one per cent of government-funded students in Victoria were enrolled in skillsets.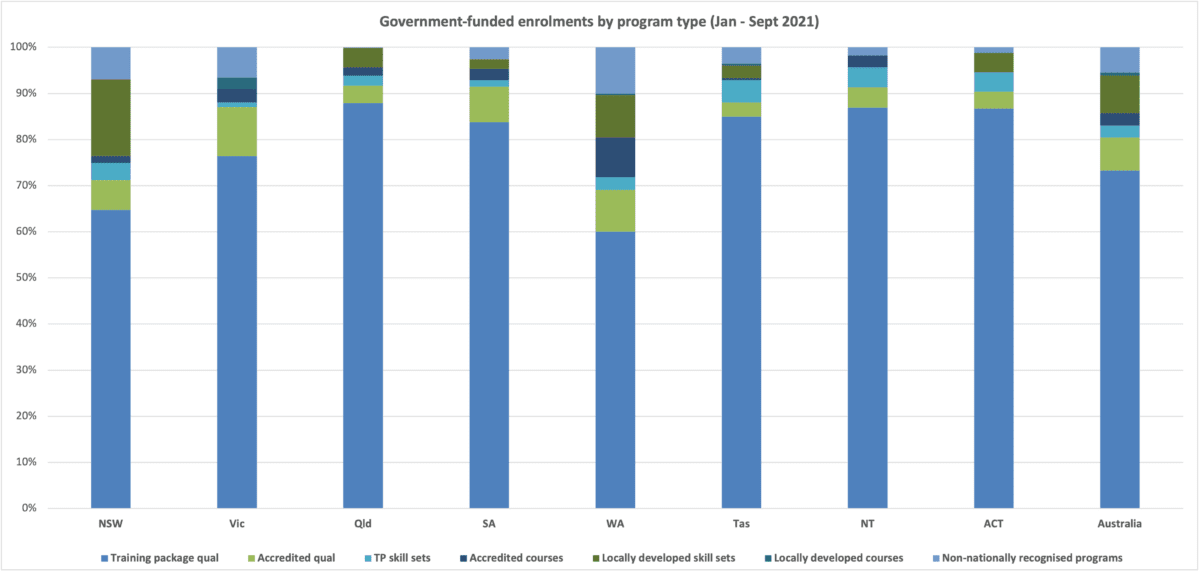 There are also differences in the funding allocated to enrolments in different fields of education across States and Territories. While some of these variations reflect the characteristics of each State and Territory labour market, it is more difficult to understand the very, very small proportion of government-funded enrolments in IT programs (except in the ACT) and the relatively small proportion of government-funded enrolments in Health courses.

It should be noted that because New South Wales allocates a higher proportion of funding for skillsets, and skillsets are not allocated to a field of education in the National VET Statistics collection, this therefore distorts the apparent share of funding New South Wales allocates to different fields; with 21 per cent of all program enrolments in New South Wales 'not known'. Western Australia also has a relatively high proportion of enrolments where the field of education is 'not known' and hence caution should be taken with comparisons.
All data is drawn from the NCVER (March 2022) Government-funded students and courses – January to September 2021