Last month the Department of Education, Skills and Employment released the December 2021 international student data.
The full year data shows international student numbers were down 17 per cent on 2020 – with the biggest falls in Malaysia (-23%) and other countries outside Australia's Top 4 where numbers held up better. Compared with 2020 student numbers, Australia experienced declines in students from China -11 per cent, India -13 per cent, Nepal -13 per cent, and Vietnam -14 per cent.
By sector the ELICOS (-61%) and schools (-34%) sectors were the hardest hit. International enrolments in higher education were down 13 per cent but the VET sector experienced only a six per cent decline. The relatively strong VET participation figures hide the fact that many students sought to negotiate much cheaper courses fees during the pandemic (especially with some delivery moved online and international students unable to access Commonwealth government-financial support if they were unable to work). As a  consequence there has been a financial impact on VET sector as well as other sectors albeit a less visible one.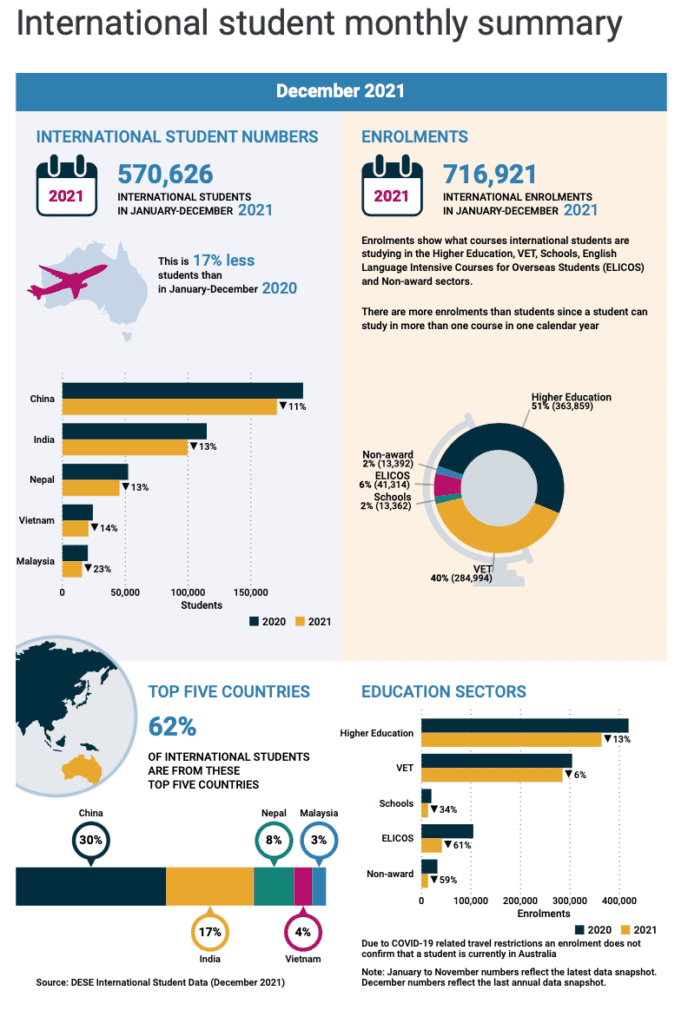 As Australia seeks to re-build, the government is pushing the public university sector to diversify their international student cohort and to ensure a better mix of domestic and international students in university classes. The government's reform ideas were first documented in the Australian Strategy for International Education 2021 – 2030 (released late last year). A discussion paper was subsequently released by the government to seek feedback from the sector on its proposals to diversify "international student cohorts and source countries to improve student experience and sector resilience."
The discussion paper includes the following comparable data on student enrolments by Top 5 source country in higher education (note that the Australian figures below differ from those in the infographic above because our higher education sector is more concentrated on the Top 5 source countries than are the VET, ELICOS and schools sectors which attract more students from outside the Top 5).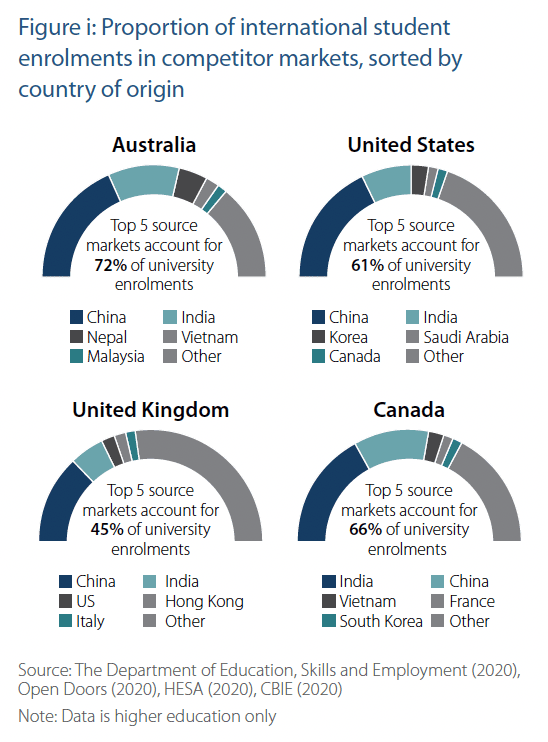 The Australian government is announced $10 million in funding to support the sector in the implementation of the new International Education Strategy. The Minister's media release states that the funding includes:
$4.25 million to deliver critical skills courses in partner countries, supporting Australian education providers to expand offshore delivery and build partnerships with industry
$2.2 million to support post-doctoral placements in Australia for the best and brightest international students from across the region
$1.5 million to pilot innovative transnational education products to help Australian providers to identify and leverage emerging offshore opportunities. Pilots will be delivered in partner countries across SouthEast Asia, Latin America, South Asia and North Asia
$1.3 million to pilot a set of VET micro-credentials targeted at international students to meet identified skills gaps. This will work alongside the Government's new $8 million micro-credentials initiative for tertiary providers, deepening market access for Australian VET providers.
$450,000 to identify opportunities for diversification across the international education sector to improve business resilience and student experience
$300,000 to develop a best practice guide for the sector on international student engagement.
While university peak bodies have argued against the proposed diversification measures, the Director-General of National Intelligence, Andrew Shearer in a speech to The Australian Financial Review Business Summit explicitly stated that universities are going to need to be more careful about the international students they enrol in technology-related courses and research programs. There is a good summary here($) of his general views on the broader geo-political outlook but his comments on universities came in answer to a specific question and concluded with the following comment "We have to diversify our markets. And as the borders re-open and students start coming back you'd like to think that our higher education leaders have learned some of the lessons of that overly dependent past."
The latest data, January 2022, shows early signs of a strong recovery for the sector – with commencing student numbers back at or above 2019/2020 levels for both VET and higher education students. English language (ELICOS), long a key pathway in the international sector, continues to have very few new commencing students undoubtedly as a result of the entry restrictions in place at the international border until recently. Now that tourists and backpackers are once again able to readily enter Australia, ELICOS student numbers should start to more strongly rebound. Parents are not yet ready to send their school-age children to Australia in the same levels they were but over time these numbers too will rebuild.

The signs of recovery for the Australian international education sector are strong, but if we have learned anything from the last two years it is that there can be no certainty with COVID. Flexibility will be critical over the next 12 months for both providers and students.