How the Australian VET sector is changing
The National Centre for Vocational Education Research (NCVER) has released the latest data on Total VET Activity.
Looking at program enrolments (full qualifications, accredited courses and skillsets) in TAFEs and private providers the data shows that government funded enrolments in TAFE have been largely static at a national level for the last five years (although state-based data below shows some differences by jurisdiction). In the same period as TAFEs have responded to changes in government policy, funding and restructuring in different jurisdictions, there has been a notable decline in their domestic fee-for-service enrolments, and their international enrolments have been in decline from a low base.
For private providers there was a decline nationally in government-funded enrolments from 2016 – 2018 but a subsequent increase in the last two years. Domestic fee-for-service enrolments have dropped, albeit off a high level, and international student enrolments grew year-on-year including last year with the border closed.[1]
Program enrolments in TAFEs and private providers by funding source (2016 – 2020)[2]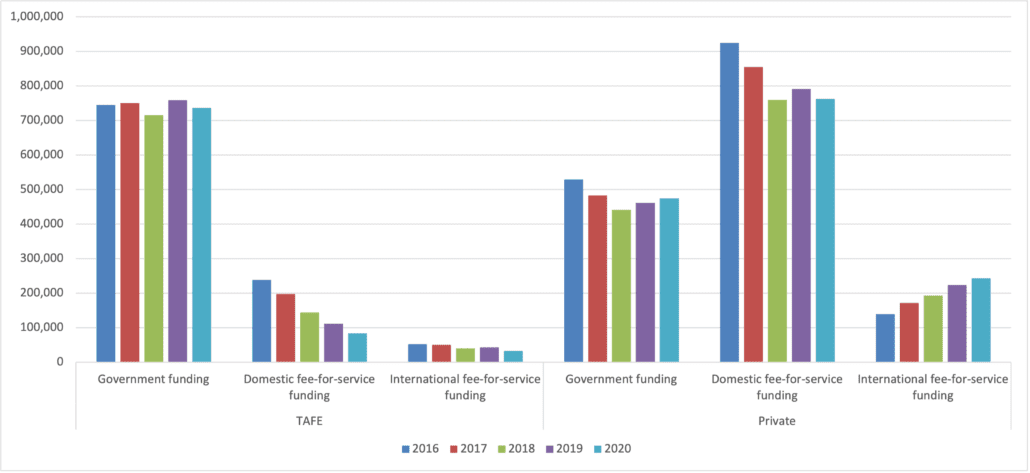 The Total VET Activity data also includes information on subject-only enrolments. When the TAFE sector and private providers are compared, the subject-only data for TAFE shows a similar trend as the program enrolment data, ie relatively stable government-funded activity and declining domestic and international fee-for-service subject-only enrolments.
Private provider subject-only enrolments between 2016 and 2020 show a decline in government-funded activity, a slight decline in domestic fee-for-service enrolments and an increase in international student enrolments.
Subject-only enrolments in TAFEs and private providers by funding source (2016 – 2020)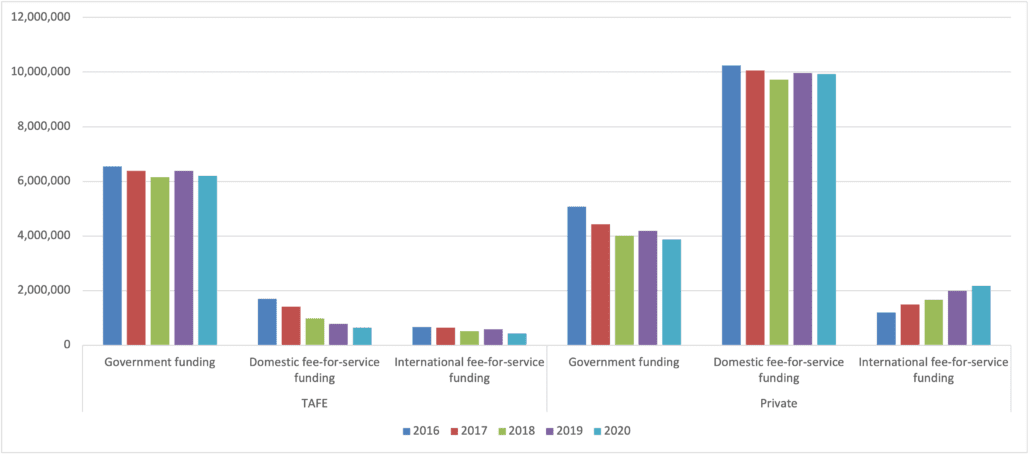 At a time of a global shift to more short course and micro-credential offerings, I have examined the shifts in subject-only enrolments in the 25 most popular Training Packages.[3]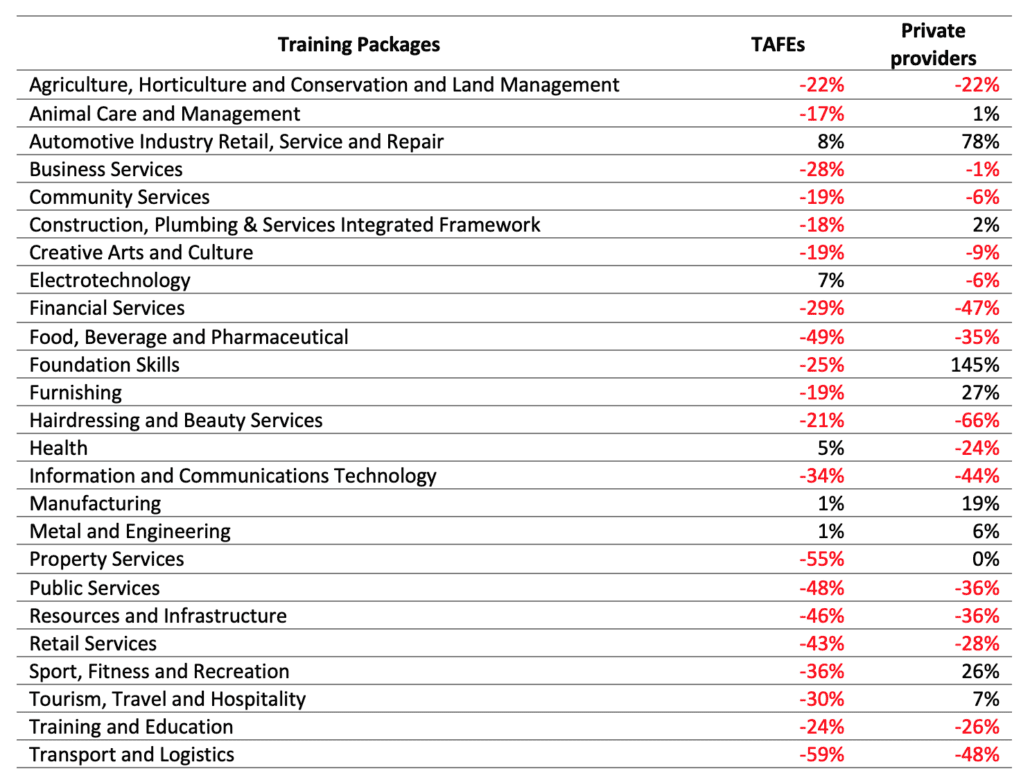 Observable in this data is a clear decline in use of the VET sector for single unit enrolments in the following industries:
Agriculture, Horticulture and Conservation and Land Management
Creative Arts and Culture
Financial Services
Food, Beverage and Pharmaceutical
Hairdressing and Beauty Services
Information and Communications Technology
Public Services
Resources and Infrastructure
Retail Services
Transport and Logistics
Training and Assessment[4]
The shift has come about in some industries because of an increased use of training from equipment manufacturers eg resources, agriculture and transport; while a growing use of training from the tech giants and EdTech platforms has been apparent in other industries such as financial services, ICT, public services and retail.
More traditional industries such as manufacturing, metal and engineering, and automotive industry retail have, on the other hand, shown a swing towards more formal VET short courses in the last five years. The reason could be that changes in these industries mean people have needed to upgrade their skills and the Training Package has introduced units which meet those needs, or it might reflect a shift from full program enrolments to subject-only enrolments. If it is the former, then VET policymakers, IRCs and SSOs should be trying to understand how they might replicate the development of similarly attractive units of competency in other industry areas.
What is also noticeable is the shift away from TAFE, but not VET, in:
Animal Care and Management
Construction, Plumbing & Services Integrated Framework
Foundation Skills
Furnishing
Property Services
Sport, Fitness and Recreation
Tourism, Travel and Hospitality
In all these industries there has been a decline in subject-only enrolments at TAFE and an increase (or no decline) at private providers – indicating a shift in student (or employer) preferences. And, as noted above, with so much of this activity not being government-subsidised this is not a shift brought about by government incentives.
When the data is examined at the State and Territory level, and by funding source, the following trends are apparent for private providers and TAFEs.
For private providers government-funded and international student enrolments in NSW have risen and it is only domestic fee-for-service enrolments which have declined. In Victoria by contrast, the drop in government-funded enrolments has been significant over the last five years, albeit numbers have stabilised recently and the decline in 2020 was relatively modest. Domestic fee-for-service enrolments have been mixed and international enrolments have steadily increased.
Government-funded enrolments in Queensland and SA have been stable, and increased slightly in WA. Domestic fee-for-service enrolments are climbing again in WA and Queensland (and the Queensland enrolments are a significant factor in national private VET sector activity), while they are in decline in SA. If I were still a policymaker I would be wanting to understand why the domestic fee-for-service market is so strong in Queensland (noting these are longer program enrolments – full qualifications and skillsets). What is it about Queensland employers/learners/the VET sector that it has such a high share of domestic fee-for-service enrolments and how can these be encouraged elsewhere?
Private provider program enrolments by funding source, larger jurisdictions (2016 – 2020)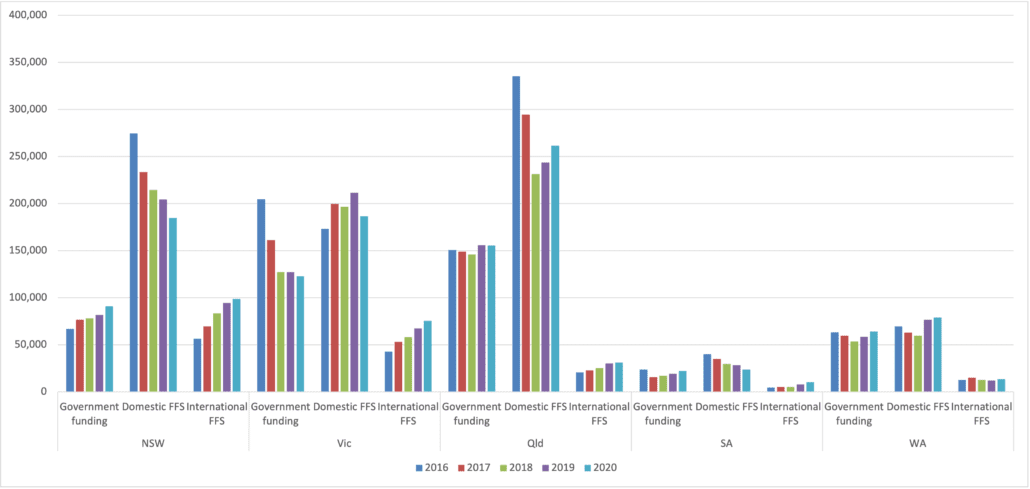 TAFE enrolments grew in NSW and Queensland over the last five years but declined in SA and WA, and were highly variable in Victoria. Domestic fee-for-service enrolments declined in all large jurisdictions with the fall most notable in NSW (coinciding with the restructuring of the TAFE sector there from multiple Institutes to 'one' TAFE NSW), and international enrolments also declined slightly across the board.
TAFE program enrolments by funding source, larger jurisdictions (2016 – 2020)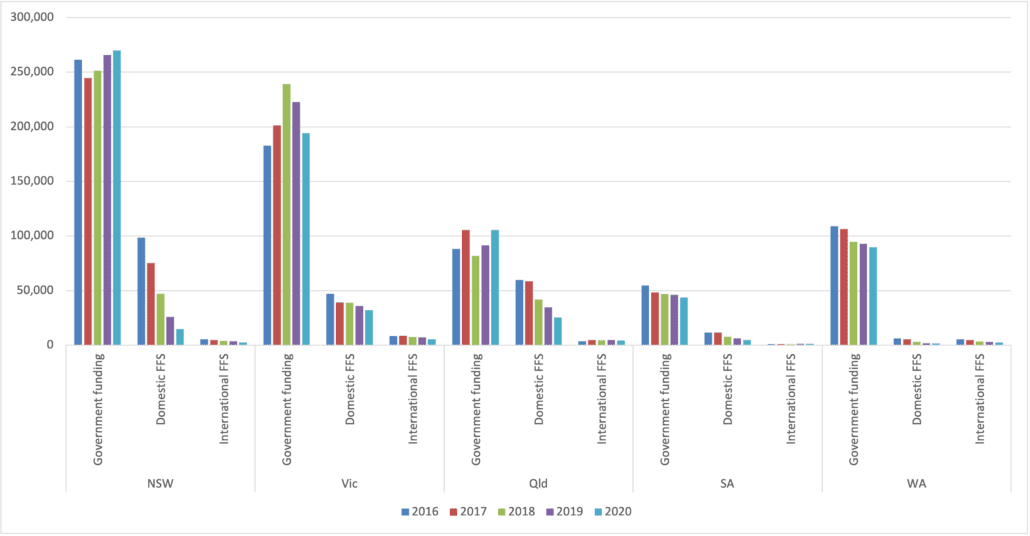 In the smaller jurisdictions the following enrolment patterns were apparent for private providers: declining government-funded enrolments in Tasmania and the NT, and an increased share in the ACT. Domestic fee-for-service enrolments have bounced around a bit but have been broadly stable, and international student numbers have been increasing.
Private provider program enrolments by funding source in Tasmania, NT and the ACT (2016 – 2020)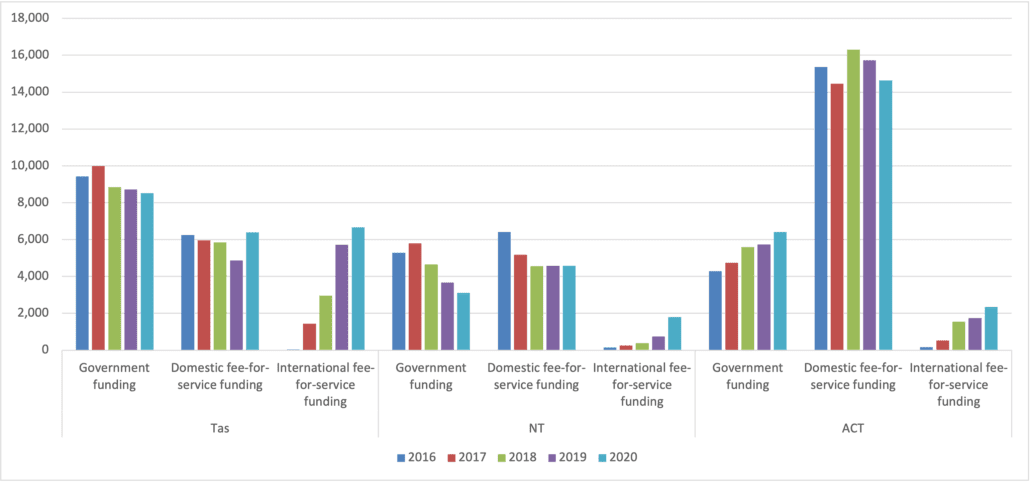 And for TAFEs, government funded enrolments declined in both Tasmania and the NT but were growing in the ACT pre-COVID. Fee-for-service activity (both international and domestic students) is minimal and mostly in decline.
TAFE program enrolments by funding source in Tasmania, NT and the ACT (2016 – 2020)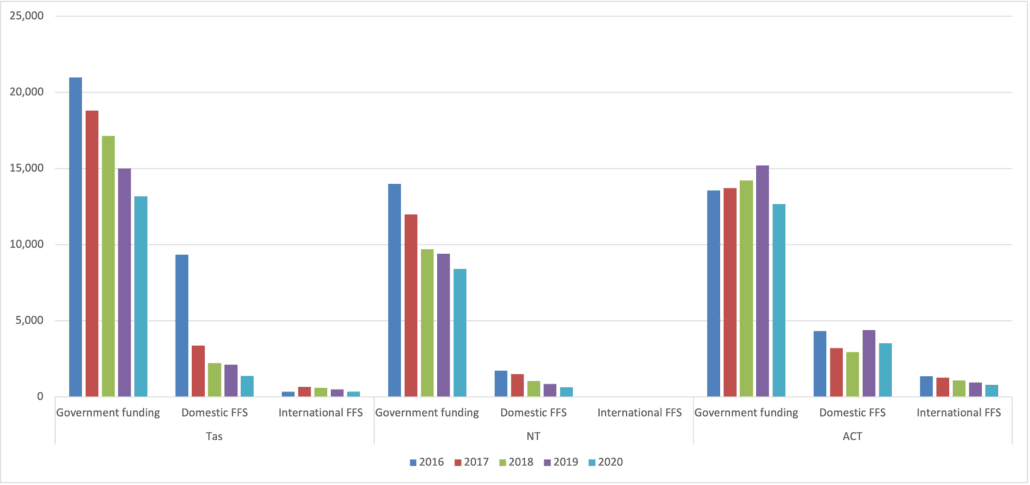 So what does this all mean?
Government funding for VET has not seen significant (or sustainable) increases in VET enrolments in the last five years. Both TAFEs and private providers have been impacted by shifts in government priorities and even though there has been a stated prioritisation of government funding for TAFE in a number of jurisdictions, with the exception of Victoria, this has not had a notable impact on government-funded enrolments at private providers.  The bigger impact has been government-funding supporting fewer enrolments over the last five years.
With the private VET sector having a long history of fee-for-service offerings, it has been able to grow those offerings for international students and in some jurisdictions for domestic students. By contrast the restructuring which many governments have undertaken in the TAFE sector (towards greater consolidation and centralisation) has impacted TAFE Institutes' abilities to grow (or even maintain) their fee-for-service offerings.
When we look to the future, with more workers needing to upskill and reskill, there are areas where the VET sector as a whole needs to reconsider its offerings and increase their attractiveness, and other areas where different providers can continue to grow their offerings. TAFE Institutes will need to reflect on why they have experienced a drop in subject-only enrolments in industries which still value VET and where students have instead shown a growing preference for private providers.
A final couple of points: firstly it is important to keep in mind that The Australian labour market held up better than expected in 2020, so some people who might have done a VET program could instead have gone directly into a job. And secondly I am conscious that these are high level trends and do not reflect the experiences of many individual providers.
[1] International VET student numbers have held up during COVID albeit with heavy fee discounting from some providers and some students moving from higher education to VET due to the cheaper fees.
[2] TAFE data also includes VET students enrolled in universities (the majority in terms of VET enrolments are Victoria's dual-sector universities).
[3] Had more than 100,000 subject-only enrolments in 2020.
[4] Some of this decline is likely due to VET trainers having upgraded their skills following the introduction of the new Training and Assessment Training Package in 2016 (where they needed to hold two additional units of competency), although the enrolment figures have bounced around in the last five years.